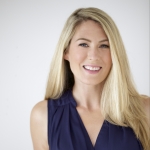 Adelaide Lancaster is the co-founder and director of community and collaboration for We Stories, a St. Louis, Missouri based nonprofit organization that engages white families to change the conversation about and build momentum towards racial justice and health equity. In four short years they have directly engaged 900 families, helping them to start and strengthen conversations about race and racism and increase their capacity for civic engagement and advocacy. Their work has touched thousands more through innovative partnerships with schools, educator networks, libraries and other family serving organizations.

Adelaide has spent most of her professional life as a social entrepreneur, community builder, innovator, and advocate. She was co-founder of In Good Company Workplaces, a first of its kind community and co-working space for women entrepreneurs in Manhattan, New York, which opened in 2007. In Good Company served thousands of women entrepreneurs and has helped shape the shared workspace industry of today.

Adelaide's focus on racial justice galvanized while earning her bachelor's degree in educational studies and sociology from Colgate University. She went on to earn a master's degree in organizational psychology and a M.Ed. in counseling psychology from Teachers College at Columbia University, where she studied racial identity development and group dynamics.

Adelaide is an active parent in her school district, a proud supporter, and an active participant in many civic organizations and racial justice initiatives. She is particularly honored to serve as a founding board member for Forward Through Ferguson, the organizational outgrowth of the Ferguson Commission report.