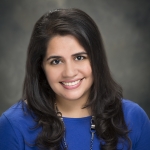 Anisha Srinivasan is an independent consultant, who previously served as the senior director of change and organizational effectiveness for Uplift Education, a public charter school network that serves over 17,000 scholars in preK-12th grade on 19 campuses across the Dallas Fort Worth metroplex. In her role, she partners with leaders across the organization to support network wide change initiatives and ensure the continuous improvement of organizational performance.

Prior to this role, she served as the senior director of finance, in which she managed and monitored all financial planning and analysis activities, federal and state grant fiscal compliance, and supported capital markets financial transactions. Before that, Anisha spent five years cultivating Uplift's vision for data driven decision making, during which she built Uplift's data analytics infrastructure and team, while overseeing the development of tools to support impactful and action oriented data analysis.

Prior to Uplift, Anisha worked in microfinance in India as a product and marketing manager and in investment banking as a financial analyst. Anisha received a bachelor's degree in mathematical economic analysis and managerial studies from Rice University. She lives in Dallas with her husband Sanjeev, daughter Meera, and dog Coco.