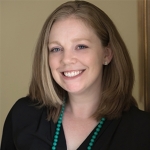 Beth Rabbitt is chief executive officer of The Learning Accelerator (TLA), a national nonprofit working to ensure every child receives the highly effective, engaging, and equitable education they need to reach their full and unique potential.

As a parent and product of K-12 public schooling, she is inspired daily and urgently to help schools better meet the needs of every child, everywhere. Prior to becoming TLA's CEO in 2016, Beth was a partner on the organization?s start-up team. Before joining TLA, Beth was a doctoral resident and the director of human capital at Touchstone Education, a consultant to and with Education Resource Strategies, the founding doctoral fellow at the Harvard Innovation Lab, and an associate partner at NewSchools Venture Fund.

Beth serves on the board of several education nonprofits, including Catalyst:Ed, GiveTHX, and InnovateEDU, and the Portland Parks Commission. She earned a bachelor?s degree in psychological and brain sciences from Dartmouth College and a Doctorate in Education Leadership (Ed.L.D.) from Harvard University.