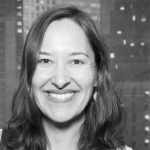 Beth Sutkus Thompson has been the founding chief executive officer of KIPP Bay Area Schools for over a decade, where she is responsible for the organization's performance, growth and sustainability. KIPP Bay Area Schools currently serves over 5,000 students in 12 schools across 6 cities on a path to doubling in size in the coming years; and serves nearly 3,000 alumni on their journey to choice-filled lives.

Previously, Beth was the West Coast Trailblazer at the KIPP Foundation, where she created and implemented a strategic growth plan for KIPP schools, including securing charters, start-up funding, facilities, and community support. Prior to her work at the KIPP Foundation, Beth was on the founding team of NewSchools Venture Fund, a national nonprofit venture philanthropy working to reimagine public education.

Beth holds a BA in political science, an MA in Education, and an MBA with a certificate in nonprofit management, all from Stanford University. She is a graduate of The Broad Academy and a current Aspen-Pahara Fellow. Beth serves on the Board of Cambiar Education and Kids Love Writing. She resides in Oakland with her husband, daughter (age 4) and son (age 2).