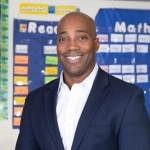 Brian Neal is the chief executive officer for Accelerate Great Schools, a multimillion-dollar fund working to ensure that every student in Cincinnati has access to high-quality school options. To make this possible, Accelerate Great Schools invests in the expansion of proven school models, supports programs that help attract and retain quality school leaders and teachers, and partners with families and communities in supporting their efforts to advocate for quality educational opportunities. Prior to this role, Brian served as the education program officer for the Farmer Family Foundation, a private foundation that invests in causes which promote educational opportunities for underprivileged youth, stability for the economically disadvantaged, and healthcare research.

Brian has worked across all sectors to support students and families in Ohio. Most notable was Brian's work as the Ohio Director for the SEED Foundation's Ohio expansion effort, a $60M campaign to launch Ohio's first public, college-preparatory boarding school for underserved children. Brian has also assisted parents/caregivers in advocating for their student's success through leading the statewide Ohio Parent Information and Resource Center, and was a founding resource coordinator during the Cincinnati Public Schools' district-wide Community Learning Centers' launch. Brian's efforts have led to statewide policy changes, Ohio-specific public-private partnerships, and strong local and statewide community collaborations.
Brian received his bachelor's degree in business management and marketing from the University of Cincinnati. Brian is happily married with four children – three daughters and one nephew.