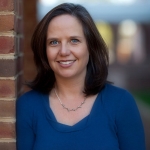 Dr. Bridget Hamre is co-founder and chief executive officer at Teachstone. Bridget is committed to ensuring that Teachstone delivers, communicates, and engages others in the collective work of transforming children's lives through the power of great teaching. She also holds a position as an Associate Research Professor at the University of Virginia's Center for Advanced Study of Teaching and Learning (CASTL).
Bridget's areas of expertise include student-teacher relationships and classroom processes that promote positive academic and social development for young children. She is deeply committed to working with education leaders to help bridge the 'research to practice' divide. As she said in a blog when she joined Teachstone, "Although there is certainly a need for more research in this area – the evidence is clear that interactions matter. What is less clear – is how we achieve that mission at scale – how we ensure that every child, in every state, and every country around the world has access to life changing teachers – not just for one year – but year, after year, after year. That's why I came to Teachstone, a company that is at the forefront of taking on that challenge – working to scale proven innovations in partnership with leaders across the country and around the globe."
Bridget received her bachelor's degree from the University of California, Berkeley and her masters and doctorate in clinical and school psychology from the University of Virginia.