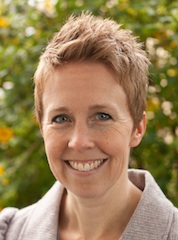 Carolyn Laub is a social entrepreneur, strategy consultant, and executive coach for non-profits and foundations. Her consulting practice focuses on strategic communications and narrative change, strategic planning, policy advocacy, growth and scaling. Carolyn is a senior communications strategist with Wonder: Strategies for Good and a senior strategist with Public Equity Group. In 2015, she co-founded Springboard Partners, which incubates early stage start-up companies and social change campaigns, and Carolyn currently serves on the board of Majority Action, which launched at Springboard. Carolyn has deep content expertise in LGBTQ equality, racial equity, education justice, youth organizing, leadership, and civic engagement.

Carolyn is the founder and former executive director of an innovative and award-winning youth leadership social justice non-profit, Gay-Straight Alliance Network (now the Genders and Sexualities Alliance Network), which organizes LGBTQ youth to advocate for safety, equity, and restorative justice in schools. Over 16 years she grew 40 GSA clubs in California to 940. Carolyn helped lead the effort to pass California's pioneering school nondiscrimination law providing protection based on sexual orientation and gender identity, and her organization trained youth advocates who helped pass 12 pieces of legislation supporting LGBTQ youth health and safety, including school discipline reforms such as restorative justice and the FAIR Education Act, requiring inclusion of LGBT Americans in history instruction in California. GSA Network's successful youth-led organizing model has been replicated in other states, accelerating the growth and impact of the GSA movement nationwide. Carolyn launched GSA Network in 1998 with support from Echoing Green and Ashoka.

Carolyn graduated from Stanford University in 1995 with a B.A. in Cultural Anthropology, with a focus on the social construction of race, gender, and sexuality in contemporary American culture. She lives in San Francisco, CA with her wife and their two daughters, and serves as a trustee for Children's Day School.