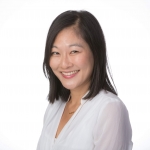 Vice President of Communications
Tina Chong is the vice president of communications for City Year, a national education organization that seeks to advance educational equity and nurture diverse leaders who can work across lines of difference for the common good.

Prior to her current role, Tina led communications efforts for a diverse array of education organizations, including the Louisiana Association of Public Charter Schools, the Jefferson Parish Public School System, and the United States Department of Education. She holds a bachelor's degree from Yale University and a master's degree in public policy from the Harvard Kennedy School of Government. She is based in Los Angeles, California where she lives with her husband and son.