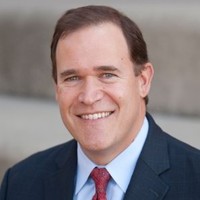 Christel House International
David Harris is a partner with The City Fund, which launched this to provide support to local education leaders. Before he joined The City Fund, David launched The Mind Trust in 2006 with former Indianapolis Mayor Bart Peterson to help create an education landscape in Indianapolis that would give every child the opportunity to receive an excellent education. Under his leadership, The Mind Trust has raised close to $73 million to incubate and launch new, innovative schools and education nonprofits in Indianapolis through its three education incubators. To date, these incubators have helped develop 17 high-quality schools and eight education nonprofits, with nine more schools currently under development.

Before founding The Mind Trust, David spent five years as Peterson's charter schools director, where he built a charter school office that received Harvard University's Innovations in American Government Award. He joined Peterson's team after practicing law with the Indianapolis firm of Baker & Daniels and leading efforts to draft the Peterson Plan, the mayor's 1999 strategy for running city government.

In 2007, David was among 25 education leaders selected for the Aspen Institute and NewSchools Venture Fund's inaugural Entrepreneurial Leaders for Public Education Program. David has received College Summit's Let Talent Shine Award, Teachers' Treasures Caring Spirit Award, Hope Academy's Faces of Hope Award, Marian University's Franciscan Values Award and Indy's Best and Brightest Award from Junior Achievement of Central Indiana. In 2013, he was featured as part of the U.S. Chamber of Commerce Foundation's Profiles of Change series.

He also was named one of Indianapolis Business Journal's "Forty Under 40" and was the inaugural winner of the St. Richard's Episcopal School's Eugene S. Pulliam Founders Medal for alumni who "demonstrate creative leadership and service that has benefitted society."

David received a bachelor's degree from Northwestern University and a law degree from Indiana University. He serves on the boards of Education Cities and Teach For America Indianapolis.