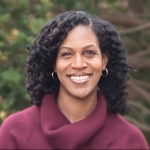 De-Lea Deane-Allen is the senior director of diversity and inclusiveness at Achievement First. De-Lea leads Diversity and Inclusiveness strategy and skill-building for the network. De-Lea works with leaders across the network to more effectively fulfill Achievement First's mission by creating inclusive work environments, increasing awareness of race and class dynamics, and making decisions with an equity and inclusiveness lens. De-Lea works most closely with network leaders that drive talent and school culture strategy.

Prior this role, De-Lea served as the dean of special services, dean of academic culture, and founding dean of students at Achievement First Brooklyn High School. Prior to those leadership roles, De-Lea was a Miles fellow at KIPP DC, where she taught seventh grade English Language Arts and Math. De-Lea started her career at Amistad Academy where she taught eighth grade history and was the founding director of High School Placement and Alumni programs.

De-Lea earned a bachelor's degree from Columbia College at Columbia University, and a master's degree in organizational leadership from Teachers College, Columbia University.