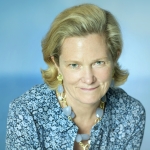 Founder & Managing Partner
Deborah is the Managing Partner of GSV Ventures, a venture fund investing in education and workforce skills technologies that are disrupting the $7 Trillion sector and named to Insider's inaugural list of top 100 seed investors. In addition, she is Co-founder of the ASU+GSV Summit. Now in its 13th year, the ASU+GSV Summit celebrates innovations and innovators across the global "preK to Gray" learning and talent landscape and attracts over 5,500 live and 10,000 virtual attendees.

Deborah currently serves on the boards of, Ascend Learning, BrightChamps, Classplus, Class Technologies, Degreed, Ellucian, Intellispark, PhotoMath, PhysicsWallah, Remind, Turnitin. She is a member of the boards of The Common Ground Foundation and Steppenwolf Theatre Company. She previously served on the board of a number of education organizations including The Chicago Board of Education (CPS) and KIPP: Chicago.
Deborah graduated cum laude with a BA in history from Princeton University in 1982 and an MBA from Harvard University in 1987.