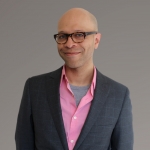 Executive Vice President & Executive Director NYCAN
Derrell Bradford is the executive vice president of 50CAN: The 50-State Campaign for Achievement Now, and the executive director of its New York branch, NYCAN. In his role, Derrell trains and recruits local leaders across the country to serve as executive directors of state CANs, advocacy fellows, and citizen advocates. He is also a member of the organization's executive and leadership teams.

Derrell previously served as the executive director of Better Education for Kids (B4K), which worked to secure the passage of tenure reform legislation in New Jersey. Prior to B4K, Derrell spent nine years at Excellent Education for Everyone (E3) under the mentorship of education reform leader Dan Gaby. At E3, he also served as a member of the New Jersey Educator Effectiveness Task Force. Before his work in education, Derrell worked as an editor at City Guide and 411 Magazines in New York. His passion for writing continues at present, and he often authors essays on education, race, equity, and culture.

Derrell serves on several boards and leadership councils that focus on educational equity: Success Academy Charter Schools; The Partnership for Educational Justice; EdBuild; and The National Alliance of Charter School Authorizers Advisory Board, among others.

Derrell is a graduate of the University of Pennsylvania with a bachelor's degree in English. A native of Baltimore, he currently lives outside New York City and can be found riding his bike along the Hudson, rooting for Tottenham Hotspur (and Liverpool), photographing the city, and refusing to try new foods.