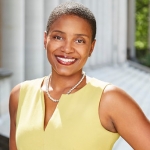 Maya M. Bugg has deep roots in the education sector – from beginning as a National Board certified classroom educator in North Carolina to working with the United States Department of Education as a policy consultant. Now, as the chief executive officer of the Tennessee Charter School Center (TCSC), her almost two decades of experience launching, scaling, and leading high-impact initiatives throughout the education sector have positioned her to lead charter school growth and success in Tennessee. Under Maya's leadership, TCSC has secured almost $100 million in resources for public charter schools and their students, helping to move Tennessee towards more equitable funding for all public school students. TCSC has improved access to high quality public schools, especially for our most marginalized communities. Additionally, Maya is the creator of TCSC's Community Launch Fellowship as well as the Board Leaders of Color Collaborative.

In previous roles, Maya was charged with overseeing strategic growth, financial stability & development, and regional partner acquisition. She has worked in leadership roles at organizations such as Education Pioneers, NC State, Citizen Schools and the U.S. Department of Education. Under her executive leadership, she scaled the impact of each organization by steadily growing their programmatic footprint and markedly increasing partner investment throughout their geographies.

Additionally, Maya has extensive experience providing strategic planning support, research and facilitation for myriad nonprofits as well as national for-profit companies. She has also participated in various prestigious national and local fellowships, including the Pahara-NextGen Fellowship as part of the Fall 2015 cohort. Maya serves on a number of local, state and national committees and boards. Maya earned a BA from the University of Pennsylvania, an EdM from Harvard University, and her EdD in leadership, policy & organizations from Vanderbilt University.