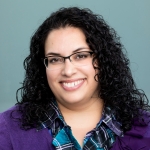 Xiomara Padamsee is the founder and chief executive officer of Promise54, a national non-profit focused on helping adults to thrive so that they can do their best work for students. Before founding Promise54, Xiomara led the talent advising practice as a partner and member of the management team at Bellwether Education Partners. Xiomara has worked with clients such as Cleveland Metropolitan School District, San Francisco Unified School District, non-profits like Blue Engine, College Track, 826, and UnboundEd, and charter networks such as Strive, KIPP, and Explore.

Before joining Bellwether, Xiomara was a leader in Deloitte Consulting's Human Capital consulting group where she specialized in large-scale transformational change, organizational culture, training, communications, and working cross-culturally.

Earlier in her career, Xiomara worked as a member of the management team and vice president of staffing and organizational development with Teach For America, where she founded the organization's first talent team, fueling a four-fold national expansion in five years with increased staff diversity, satisfaction, effectiveness, and retention. Prior to this, Xiomara served as a corps member, teaching bilingual elementary in the South Bronx, and as a program director supporting teachers in Newark, Paterson, and Jersey City.

Xiomara holds an MBA from Northwestern University's Kellogg School of Management and a BS from Cornell University. She is a proud Puerto Rican, Cuban, and Indian cisgender gay woman; a family-first mother and wife, daughter and sister; an enthusiastic piñata maker, former pianist, and a dedicated educator and activist. Xiomara lives with her wife and daughter in Pittsburgh, PA.