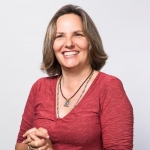 Elizabeth "Betsy" Corcoran brings education's best ideas to life.

She heads Lede Ventures, which advises organizations at the intersection of technology and learning on the strategies and tactics for catalyzing innovation. She also consults with C-level executives on how to foster vibrant teams that stress authenticity and transparency. She draws on decades of experience in leading teams and in analyzing industry's top leaders.

In 2011, Betsy cofounded and served as CEO of EdSurge, which became the leading information hub for teachers, entrepreneurs and school leaders with a commitment to edtech. She was named a "Rock Star of Education." EdSurge created a vibrant community of entrepreneurs, educators and others. It received awards for its journalism as well as for its impact in education from groups including NewSchools Venture Fund and the ASU-GSV Summit. In 2019, she negotiated its successful acquisition by ISTE, the International Society for Technology Education.

She served as Silicon Valley Bureau Chief for Forbes Media, helping establish its Midas List. She has received national recognition for her work as a journalist at organizations that include The Washington Post and Scientific American magazine.

Betsy is a well-known speaker and conference moderator as well as LinkedIn "Influencer." She has appeared on CNBC, NCB's "Press Here," and "Class Action" as well as other programs. She is an advisor to the REMOTE conferences on learning and to the international"Unboxing" initiative, coordinated by MindCET. She has served as a keynote speaker moderator and presenter at conferences throughout the US and internationally.

She has also been a Fellow in the Knight Science Journalism program at the Massachusetts Institute of Technology. In 2019, she received the ISTE "Impact" award, recognizing outstanding work in improving learning and leading the field of education. She has a B.A. in economics and math from Georgetown University.