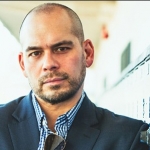 Dr. Emilio Pack is the chief executive officer of STEM Prep Schools, a public school network designed to increase proficiency, graduation, and college acceptance rates for students of color. In this role, Emilio leverages strategic community, district, and cross-network charter partnerships to focus on reversing the under-representation of minorities in STEM-related fields. Prior to founding STEM Prep Schools, Emilio helped to launch, staff, and lead charters for Alliance College-Ready Public Schools.
In 2019, Emilio was recognized by Education Week as a "Leaders to Learn From" for his leadership in access and opportunity for students of color. He was also awarded the prestigious Hart Vision Award as the California Charter School Leader of the Year in 2017. In 2015, the Los Angeles Business Journal awarded STEM Prep the Latino Nonprofit of the Year. That same year, Emilio was profiled by L.A. Weekly Magazine as one of its "People of the Year."
Emilio received bachelor's and master's degrees in Psychology from Loyola Marymount University and California State University-Los Angeles, and a Doctor of Education in Educational Leadership and Administration from Pepperdine University. Emilio is the proud son of a single mother who came to the United States from Cuba to seek better opportunities for her son.