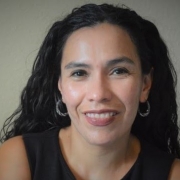 Evelia Villa is the Chief Executive Officer of the AMPS charter school network, a six school multi city and county charter management organization established in Oakland, CA in 1994.

Prior to her role as the Chief Executive Officer, Evelia served as the AMPS Chief of Operations where she led the operational support teams as they assisted school sites. A former principal, Evelia led Oakland Charter High School to become the highest performing public high school in the City of Oakland in 2010. She went on to lead the growth of a new region by opening the first AMPS school (Richmond Charter Academy) outside of Alameda County, and grew the Richmond region from a 150 single school site, to a three school system serving over 1,200 students.

Evelia started her career of serving marginalized communities as a Migrant Health Coordinator for the Migrant Education Program in Butte County coordinating health needs for children of agricultural workers. Evelia went on to become a Transitional Kindergarten Teacher for Migrant Education that led to a career as a teacher in multiple communities throughout Sacramento and Oakland. Evelia is Policy Fellow a National Institute for Latino School Leaders (NISL) at UNIDOS US (formerly National Council De La Raza) and former recipient to the Silicon Valley Latino Magazine ,"Top 40 under 40 Latina Leaders" for leading some of the highest performing schools in America with a majority Latino student population.

Evelia grew up in California's Central Valley where her grandparents, parents and she worked as farmworkers.