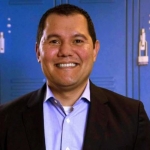 Chief Academic & Talent Systems Officer
Federico Gonzalez is the chief academic and talent systems officer at the KIPP Foundation. He leads the Academics and Talent Team with the overall goal of supporting over 112,000 KIPP students across the country develop the skills and confidence to pursue the paths they choose so they can lead fulfilling lives and create a more just world. The team he works with creates and improves curriculum and assessment for the KIPP Network; supports KIPP regions in improving student achievement; works alongside KIPP Network's leaders to facilitate opportunities for professional growth and development; and shares some of KIPP's resources with other district, charter, and education organizations.

Before joining the KIPP Foundation, Federico worked at KIPP Austin College Prep as a teacher, assistant principal, and finally as principal for seven years. Under his leadership, the school earned "Recognized" or "Exemplary" ratings every year and earned distinctions in all possible categories. Prior to KIPP, Federico was the lead counselor with Settlement College Readiness Program in New York City.

In 2019, Federico joined the board of EdFuel, a national nonprofit that helps education organizations recruit and retain top talent. He lives in Austin, TX, earned his master's degree from New York University's Steinhardt School of Education, and a bachelor's degree from Brown University.