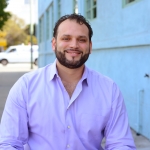 Executive director, Bay Area
Hector Ramon Salazar, is an education sales, marketing, and fundraising specialist with a passion for youth development and business expansion. Hector has dedicated his professional career to mission-driven work.

Considered key adviser and subject matter expert on account management, brand visibility, and nonprofit leadership; Hector has established himself as a true bridge-builder in the movement for educational equity. As a fervent pacesetter for mission-driven organizations, his professional efforts have landed him extensive experience in partnering alongside school eco-systems to impact change.

He has over a decade of experience developing, managing, and implementing programs targeted at the advancement of underserved groups. Hector has led partnerships with multiple local and nationwide organizations including BACR, Boys & Girls Clubs of America, YMCA, and City Year. In his previous roles with Revolution Foods and Playworks, Hector built lasting partnerships with multiple institutions with a shared goal of designing programmatic advancement relating to outcomes, impact, and user experience while enhancing leadership, school climate, and action planning. Collaborations included multi-million dollar partnerships with West Contra Costa Unified School District, San Francisco Unified (CA) and IDEA Public School (TX). Grant based affiliations include Palm Springs Educational Fund, Kaiser Permanente Northern California and The Walt Disney Company.

Internally, Hector is a selfless leader, continually striving for organizational capacity around diversity, equity, and inclusion to advance organizational effectiveness and retention.

Hector recently became a Pahara Fellow completing his NextGen cohort in spring 2019. The Pahara Institute is a 12-month leadership development program aiming to identify and develop a diverse group of exceptional emerging senior leaders with the potential to strengthen and shape the future of the educational excellence and equity movement.

He received both his bachelor's and master's degree in education from Oakland, California's Holy Names University (HNU). Hector is a family man first, spending his free time laughing through life with his wife and four children.
He received both his bachelor's and master's degree in education from Oakland's Holy Names University (HNU). During his time at HNU, he served as a point guard and head assistant coach on the men's basketball team while working as the director for the Youth Summer Hoop camp. A native of Sacramento, California, Hector spends his downtime playing with his four children and laughing through life with his beautiful wife, Anna.