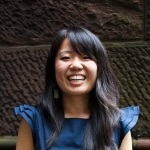 Lisa Ahn Consulting and Coaching
Lisa Ahn is an organizational development consultant and leadership coach based in the Bay Area. She brings over 15 years of experience working with leaders and organizations in non-profit and education sectors. Her focus is in supporting leaders and teams develop greater awareness of visible and invisible patterns that compromise their effectiveness and growth. She designs and facilitates leadership development programs, team development engagements, and offers leadership coaching. As a facilitator and coach, Lisa brings her passion for equity, transformation, and wholeheartedness to her clients. Some of her clients include Oakland Unified School District, Stanford University Medical School, Education Pioneers, LeaderSpring, and Earthjustice.

Lisa has a BA in History from Williams College and a MS in Organizational Change Management from The New School. In 2012, Lisa trained at Stanford Graduate School of Business to facilitate interpersonal dynamics groups, which support students in developing their emotional intelligence and effective communication skills. Lisa was an Education Pioneer Yearlong Fellow (2012-2013) and an Emerging Human Capital Leader Fellow (2015).