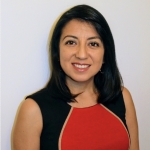 Senior Director of Family Engagement & Advocacy
Jenny Aguas is the Sr. Director of Family Engagement and Advocacy at Ednovate. Ednovate provides high quality education through their college preparatory high schools in traditionally underserved communities​. In her role, as part of the Ednovate Leadership Team, Jenny serves parents and families across all 6 campuses. She has worked to secure monetary, food and health resources for families that face personal challenges and has developed trainings to grow parent empowerment. Across the network, Jenny builds strategic community partnerships to enhance family supports and leads various initiatives elevating the parent voice to create more equitable educational outcomes.

Prior to joining Ednovate, she served students and families for ten years within the office of Los Angeles Unified School District (LAUSD) Board President. As chief of staff for Board District 2, she helped develop policies that refocused LAUSD to prepare more children to read and write at grade level and to create pathways out of poverty through education. Throughout her tenure, Jenny served in various capacities, exploring collaborative opportunities for student growth and achievement, along with building partnerships, and engaging parents, community members, government officials and other stakeholders in the process.

She began her educational advocacy work assisting high school students in the migrant community of Pescadero, in Northern California. As the daughter of Ecuadorian immigrants, born and raised in Los Angeles, Jenny understands firsthand her duty to be a fierce education advocate working to advance educational equity for all students.

Jenny received her bachelor's degree from the University of California Santa Cruz, and her master's degree in public administration from California State University, Northridge.