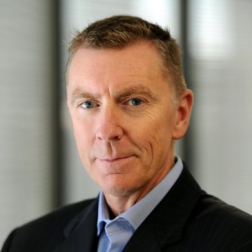 John E. Deasy is the former superintendent for Stockton Unified School District and was previously the superintendent in residence at The Broad Center, an organization that works to raise student achievements by transforming the American urban school system.

Formerly, John served as superintendent for the Los Angeles Unified School District (LAUSD), the second largest school district in the nation. Prior to this position, John was the deputy superintendent for LAUSD. John has also served as a deputy director of education for the Bill & Melinda Gates Foundation. Prior to joining the foundation, he was superintendent of Prince George's County Public Schools in Maryland. During his time in Prince George's, John launched a pay-for-performance plan that was approved by the board of education and developed jointly with labor. Previously, he served as superintendent of the Santa Monica-Malibu Unified School District in California and of the Coventry Public Schools in Rhode Island.

He has been a Broad Fellow, an Annenberg Fellow, a "State Superintendent of the Year", and a consultant to school districts undertaking high-school reform and district-wide improvement strategies. He is a moderator and a member of the Aspen Global Leadership Network.