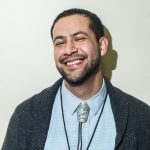 Juan Gomez is the co-founder and director of Motivating Individual Leadership for Public Advancement (MILPA). He brings over a decade of experience in youth justice reform, including working directly with youth and young adults involved with the justice system. Most recently, his team partnered with the Vera Institute of Justice on the Restoring Promise Initiate; a national initiative that partners with state and local corrections agencies to transform living conditions for incarcerated young adults ages 18-25.

Juan provides technical assistance to agencies and organizations seeking to reform policies and practices related in particular to boys and men of color. He also works with numerous agencies to develop fellowships for formerly incarcerated activists and community leaders. Juan is looked at as a national voice on racial equity, Rites of Passages, and gender specific modalities.

Juan has served on a number of advisory boards that work to shape local, state, and national reform agendas including the State Advisory Committee on Juvenile Justice and Delinquency Prevention (SACJJDP). He was raised by his grandparents Ampelio and Raquel, and his mother, Amelia.