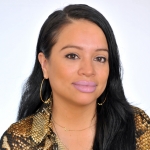 Chief Executive Officer & Co-Founder
Karla Vigil is the chief executive officer and co-founder of the Equity Institute, an organization whose mission is to develop innovative systems that cultivate culturally responsive schools and communities. Karla oversees the creative vision and all the development of the organization's initiatives including their key program, EduLeaders of Color RI.

Previously, Karla was a senior associate for the District and School Design at the Center for Collaborative Education (CCE), where she worked as a thought partner in the development of frameworks and resources centered on equity, culturally responsive teaching, and personalized learning. Prior to joining CCE, she was an education strategies specialist with Highlander Institute where she supported the implementation of blended and personalized learning initiatives in classrooms across Rhode Island. Karla also served as a fourth grade classroom teacher dedicated to broadening students' perspectives through multicultural and social justice education.