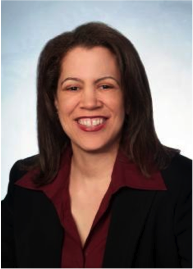 Chief Inclusive Innovation Officer
Digital Promise -- Center for Inclusive Innovation
Kimberly A. Smith is the Chief Inclusive Innovation Officer and co-creator and co-lead of Digital Promise's Center for Inclusive Innovation where she supports school districts in collaboration with communities to transform education through equity-centered R&D. She is former Executive Director of the League of Innovative Schools where she led the growth of a national network of forward-thinking school district leaders in designing and implementing learning opportunities to advance equity and excellence to create opportunities for underserved students to thrive.

Prior to Digital Promise, Ms. Smith was the Chief Learning and Innovation Officer with the Network for Teaching Entrepreneurship (NFTE) leading the innovation strategy for the global leader in youth entrepreneurship education. Prior to NFTE, Ms. Smith was Vice President of Education at PBS where she directed the digital education strategy, including launching a national public broadcasting PreK-12 digital curriculum service in partnership with school districts. Ms. Smith also served as Vice-President of Product Development for Discovery Education where she led the creation of a portfolio of broadband, services for K-12 schools, including Discovery Streaming and curriculum digital products. Prior to Discovery, Ms. Smith worked at the Annenberg/Corporation for Public Broadcasting Project where she pioneered delivering college courses for credit at a distance through online and broadcast.

Ms. Smith is an Aspen-Pahara Institute fellow and co-founder of the National Charter Collaborative—an initiative to support single-site charter leaders of color in creating quality schools. She serves on the boards of Beacon House, Catalyst Ed, Education Board Partners and the Learner-Centered Collaborative. She formerly served on the Black Alliance for Educational Options (BAEO) board and is the former Board Chair of the Arts and Technology Academy Public Charter School in Washington, DC. She received her M.B.A from Johns Hopkins University and her Bachelors of Science in Journalism from the University of Colorado at Boulder.