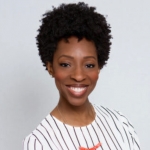 Kimberly Osagie is a partner at Promise54. Prior to her current role, she served as vice president of educator success at Curriculum Associates, designing professional development support for educators in 11,000 districts. Previously, Kimberly served as a program officer in residence at the Walton Family Foundation, supporting an intentionally diverse school portfolio and designing inclusive people operations and management structures for a growing, virtual team.

Kimberly has spent much of her professional career in New York City, beginning by joining Teach for America and teaching middle school English, Social Studies, and Health at Harlem's Roberto Clemente School. After four years of serving as an ELA curriculum designer and mentor, Kimberly transitioned to Democracy Prep Charter High School as a founding 9th-grade reading teacher and secondary English department lead. Taking lessons from both the district and charter arenas, Kimberly began her role as director of Teacher U's Diversity and Child Development courses, where she merged abstract culturally responsive theory with concrete classroom practice. At Relay GSE, Kimberly became associate dean, collaborating with the New York City Department of Education, developing faculty, and teaching and advising graduate students. Kimberly churned in the interest of approximately 20,000 children in over 200 schools across the city and presented her work to teachers from Massachusetts' Harvard to South Africa's Lebone College.

Raised in Louisiana in a Nigerian household, Kimberly is a lover of languages, warm weather, and the spiciest of cuisines. She earned her Doctor of Education Leadership (EdLD) from Harvard, an MST in secondary English from Pace University, and a Distinguished Majors BA in political and social thought and English from the University of Virginia.