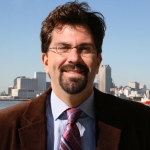 Kyle Wedberg is in his 14th year as President and Chief Executive Officer of NOCCA-Louisiana's Arts Conservatory Public High School. Kyle is the recipient of the 2017 Jeffery Lawrence Award for Outstanding National Art School Leader, given by the Arts Schools Network.

Prior to NOCCA, Kyle served as Chief Administrative Officer for Recovery School District of Louisiana. He also served as a Regional Director and Director of New Site Development for City Year where he supported the launch of City Year Johannesburg; and led the start-ups of City Year New Orleans, City Year Baton Rouge and City Year Los Angeles. Kyle served as senior budget analyst for the City of Chicago Office of Budget and Management responsible for all public safety departments (Police, Fire, and Office of Emergency Communications). He began his career as a City Year AmeriCorps volunteer.

In his spare time, Kyle enjoys being with his son, Waylon, and wife, Michelle, above all else. He loves the art of New Orleans and Louisiana, live music almost anywhere, and walks the planet knowing his Saints and Cubs have been world champions. Kyle majored in Urban Studies, American Racial and Multicultural Studies, and History at St. Olaf College, earned a Master's of Public Administration from the University of Massachusetts at Amherst, and is a PhD candidate in Public Policy at Southern University Baton Rouge.