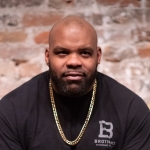 Brothers Empowered to Teach
Larry Irvin is the chief executive officer for Brothers Empowered to Teach (BE2T), where he ensures the overall vision and culture for BE2T and is the chief fundraiser. Larry is the creator and mastermind of 'The Cipher', which is BE2T's in-house personal and professional development space.

Prior to this role, Larry was a former teacher and high-school football coach. Larry has become a member of the Andover Breadloaf Teacher Network. A New Orleans, Louisiana native, Larry earned his associate's degree in journalism and media arts from Delgado Community College followed by earning his bachelor's degree in communication studies with a concentration in rhetorical theory and public address from Louisiana State University. Larry is a 2016 Camelback fellow and is also a member of the WKKF Kellogg Leadership Network.

Educational attainment was always a point of emphasis for Larry growing up. Raised by an early childhood educator, Larry's mother spent 23 years as a teacher for the Jefferson Parish Head Start program. Larry was most inspired by his mother's perpetual benevolence, which extended from the classroom deep into the community, and Larry continues to adopt those same values through his work.