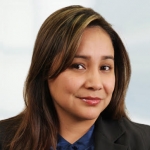 Chief Executive Officer & Executive Director
Education Leaders of Color
Layla Avila is chief executive officer and executive director of Education Leaders of Color--a membership organization of prominent education leaders of color dedicated to elevating the leadership, voices and influence of people of color in education. Initially spearheaded by Kaya Henderson, Layla Avila and Aimée Eubanks Davis, EdLoC began with 18 high‐profile Black and Latino leaders who envisioned the unique role leaders of color could play in charting a "third way" in the face of an increasingly polarized education reform landscape.

Previously Layla served as Executive VP at TNTP where she led efforts to broaden the organization's impact, overseeing business development as well as teacher pipeline work. Under her leadership, TNTP's Teaching Fellows Programs pioneered new ways of preparing teachers to be effective in the classroom.

Layla started her career with Teach For America in 1997, working as a bilingual and ESL teacher at August A. Mayo Elementary School in Compton, CA, and serving on the school's Leadership Team. She also served as an analyst for the White House Initiative on Educational Excellence for Hispanic Americans, an interagency working group to increase educational opportunities for Hispanic Americans.

Layla holds a Bachelor of Arts in economics from Columbia University and a Masters in public policy from the Kennedy School of Government at Harvard University. Layla was elected to the South Whittier School District Board of Trustees in 2005. In 2008, she was one of 10 women honored by Maybelline and People en Español magazine with the "Beauty of Education" award, for outstanding individuals having a significant, positive impact on education in America.