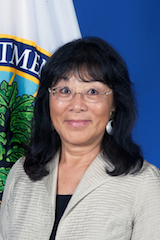 Libia Gil currently serves as a founding board member for the Sobrato Early Academic Language (SEAL) organization in addition to the advisory boards for the Stanford EdLEADers program and the University of Washington Center for Educational Leadership.
Most recently, Gil served as the Chief Education Officer for the Illinois State Board of Education (ISBE). In this capacity she provided leadership for the implementation of the Illinois ESSA State plan to transform learning opportunities and outcomes for all students. She demonstrated her commitment to equity, social justice and a whole child approach as foundational values that are embedded in all the educational program work to ensure student success.
President Obama named Libia Gil assistant deputy secretary and director of the Office of English Language Acquisition (OELA) on September 9, 2013. She was the principal adviser to Secretary Arne Duncan on all matters related to the education of English learners. As headof OELA, Gil administered programs under Title III of the Elementary and Secondary Education Act, which support high-quality instruction for linguistically and culturally diverse students.
Prior to joining the U S Department of Education, Gil served as Vice President for Practice at the Collaborative for Academic, Social and Emotional Learning (CASEL) in Chicago. She was also a Senior Fellow and Managing Director at the American Institutes for Research (AIR), where she developed and co-led the AIR Center for English learners.

Gil began her career as a teacher in the Los Angeles Unified School District, and later was a bilingual resource specialist in the ABC Unified School District in California. In that same district, she served as a bilingual-ESL coordinator, as a desegregation officer designing bilingual (Spanish, Korean and Chinese) magnet programs and finally as an elementary school principal implementing a Portuguese bilingual maintenance program. She served as Assistant Superintendent for Curriculum and Instruction in the Seattle Public Schools, where she was responsible for bilingual education services and programs in addition to a multitude of other programs and services. Later she was the Superintendent of the Chula Vista Elementary School District in California and institutionalized dual language programs in Spanish.

Gil earned her Doctor of Philosophy degree in Curriculum and Instruction, with an emphasis in bilingual education, from the University of Washington.