LIZZETTE GONZALEZ REYNOLDS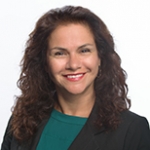 LIZZETTE GONZALEZ REYNOLDS
Foundation for Excellence in Education
Lizzette Gonzalez Reynolds is vice president of policy for Foundation for Excellence in Education (ExcelinEd) where she guides a team of policy experts in the areas of quality, opportunity and innovation to effectively provide customized support for state policymakers, reformers, educators, parents and communities to cultivate policy conditions that advance student-centered education systems.

Prior to joining ExcelinEd, Lizzette served as chief deputy commissioner for the Texas Education Agency (TEA) where she oversaw the day-to day operations of the agency and engaged and collaborated with education stakeholders in the development, implementation and delivery of education programs and initiatives throughout the state of Texas.

Under President George W. Bush's Administration, Lizzette served as special assistant in the Office of Legislative and Congressional Affairs under Secretary Rod Paige and as the Region VI representative for Secretary Margaret Spellings. Her career reflects deep experience in education policy development and implementation as well as the "how-to" of legislative work needed to advance education reforms. Lizzette currently sits on the national boards of KnowledgeWorks (acting chair), Generation Citizen and UTeach. She also serves on the Austin advisory board of IDEA Public Schools and is chair of the IDEA Florida board. She also serves on the school board of the Goodwill Central Texas Excel Center and is a member of Education Leaders of Color (EdLoC). She earned her bachelor's degree in political science from Southwestern University where she sits on its Board of Visitors. She is married to David Reynolds and has three children, Luke, Lillianna and Joaquin.