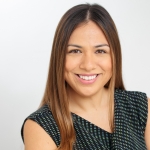 Managing Director of Public Affairs
KIPP SoCal Public Schools
Lynnzi Brianza is the Managing Director of Public Affairs at KIPP SoCal Public Schools, a nonprofit organization that operates free, open-enrollment, public charter schools focused on preparing students from previously excluded communities for success in school, college, and life. In her role, Lynnzi leads a team to support KIPP SoCal's ability to grow, renew, and operate schools through managing authorizer relations, advocacy and community engagement. Additionally, she ensures KIPP SoCal schools meet all federal, state and local programming compliance requirements, including Local Control and Accountability Plans.

Prior to joining KIPP SoCal, she served as a project coordinator for a peer mentorship program ran through the Center for Latino Community Health and Leadership Training at California State University, Long Beach. This program served first generation Latinx students studying in the STEM fields.

Throughout her career, she has held various roles working with youth and educational programs ranging from kindergarten through higher education, and understands the positive impact that educational access and youth leadership development can have on an individual person and their families. Lynnzi is the first in her family to graduate high school, go on to college and obtain an advanced degree. She received a bachelor's degree from Whittier College and a master's degree in public administration from California State University, Long Beach.