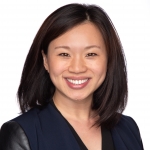 Maryann Li is the Chief Operating Officer at Ascend Learning, a network of K-12 public charter schools. Ascend operates 18 schools across Brooklyn and is rooted in enabling boundless choice for every student. Under her leadership, Ascend nearly doubled their student applications during a year when the sector saw 25% decreases in charter network applications. She reimagined the high school process to drive the offer acceptance rate from 20% to 97% while growing total enrollment by 10%, and greenlit 3 new schools for the network in the next 3 years.

Previously, she was Head of Operations at Success Academies, the highest performing charter network in New York City, where she oversaw the hiring and training strategy and strategic direction for school operations across 47 schools. Maryann has also worked as a Chief of Staff at Teach for America's National Office.

Maryann started her career on the trading floor at Barclays Capital in Interest Rate Derivatives. She is a graduate of the University of Virginia's McIntire School of Business, and holds a certificate in social sector leadership from Berkeley's Haas School of Business. Maryann is a proud first-generation immigrant and mom of two.