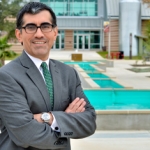 Dr. Mike Flores became Palo Alto College's sixth president on Sept. 19, 2012. Mike came to Palo Alto College – one of the Alamo Colleges – in 1999 and has held all three vice president positions (academic success, college services, and student success) during his tenure.

During his time as president, Mike has led many new initiatives for the south San Antonio college. Providing access for the community to education has been key since the beginning for Palo Alto College, and Mike is committed to continuing partnerships with area businesses, community organizations, and schools to achieve that goal. He continues to empower students for success through a variety of resources on campus through high impact teaching and learning practices including usage of academic advising, learning communities, new student orientation, and open educational resources.

Mike works with community colleges nationwide to increase student success as an achieving the dream coach and has served as a fellow with the American Council on Education, the Hispanic Association of Colleges & Universities, and conducted postgraduate study at the Harvard University Institute for Educational Management. Mike has also worked with numerous community-based organizations in San Antonio, Houston, and Chicago, and presented nationally at numerous higher education conferences regarding student engagement, evaluation, and performance excellence. He also serves as a board member for the Communities in Schools San Antonio, Hispanic Association of Colleges and Universities, Hot Wells Park Conservancy, San Antonio Hispanic Chamber of Commerce, San Antonio Tricentennial Commission, and San Antonio Youth Yes (SAY Sı́) Leadership Council.

Born in Del Rio, Mike is a 1987 graduate of Holmes High School in Northside ISD in San Antonio. He holds a Ph.D. in educational administration from the University of Texas at Austin, a Master of Science in political science from Illinois State University and a Bachelor of Arts in political science from the University of Texas at San Antonio. He lives in central San Antonio with his wife Martha, a talented creative director and entrepreneur, and their daughters, Mara Zoe and Mia Ximena.