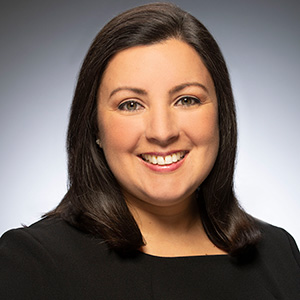 Strategy Officer for State Policy
Paola Santana serves as Strategy Officer for State Policy at Lumina Foundation where she supports state efforts to increase postsecondary attainment and address racial disparities through the implementation of Luminas' State Policy Agenda.

Prior to joining Lumina, Santana led UNITE-LA's, an affiliate of the Los Angeles Area Chamber of Commerce, college access and success portfolio. She was responsible for the implementation of direct service programming, the development of the Chamber's higher education policy advocacy agenda and providing strategic support to the local Talent Hub. Santana began her career working for the Los Angeles Unified School District Board of Education where she advised board members on complex policy issues and worked with educators, administrators, students, and families to improve educational opportunities in the country's second largest school district. She is a proud graduate of the Riordan Leadership Institute, the Pahara NextGen Network, the California Education Policy Fellowship Program, and is currently participating in the Indiana Latino Institute Leadership Circle. In 2021, Santana was appointed to serve on the Circle Area Community Development Corporation and also currently serves on the board of directors of the Foundation for the Los Angeles Community Colleges, TeenWorks, and the Ivy Tech Community College Statewide Diversity, Equity and Belonging Advisory Council. A first generation and community college transfer student, Santana earned her B.A. at the University of California, Berkeley and went on to complete her Master's in Higher Education at the Harvard Graduate School of Education.