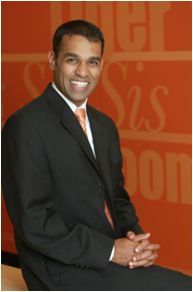 Institute for Citizens & Scholars
Rajiv Vinnakota is the seventh president of the Institute for Citizens & Scholars (formerly the Woodrow Wilson National Fellowship Foundation), where he is leading an organization focused on strengthening democracy for the long haul by developing a critical mass of young people who are civically well-informed, productively engaged for the common good, and hopeful about the future of democracy. Prior to joining the Foundation in July 2019, Raj served as the Executive Vice President of the Youth & Engagement division at the Aspen Institute, a new venture focusing on youth leadership development, civic engagement, and opportunity. Before work at the Aspen Institute, he was the co-founder and CEO of The SEED Foundation, the nation's first network of public, college-preparatory boarding schools for underserved children. Raj remains on the board of The SEED Foundation.

A graduate and former trustee of Princeton University, Raj has dedicated his career to educating, empowering, and supporting America's youth, particularly those from disadvantaged communities. His work as a social entrepreneur and non-profit leader has earned him fellowships from Echoing Green, The Ashoka Foundation and the Aspen Institute, as well as awards such as Princeton University's Woodrow Wilson Award, Harvard University's Innovation in American Government Award, and Oprah Winfrey's Use Your Life award.

Raj is a board director for the publicly traded Enovis Corporation and ESAB, and he is chair of the Nominating/Governance Committee on both boards. In addition to being a former trustee and executive committee member for Princeton University, Raj is the former national chair of its annual giving committee and former executive committee member for its Aspire capital campaign. Raj was previously a founding board member of Path Forward, an advisory committee member for the College Board, and a board director for The Meyer Foundation.

A graduate of Princeton University, he majored in molecular biology and also earned a certificate of studies from the Woodrow Wilson School of International Affairs & Public Policy.