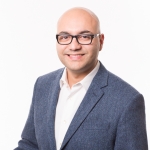 Assistant Superintendent - Equity, Access and Innovation
San Bernardino City Unified School District
Ricardo Esquivel is the former executive director of Wonderful College Prep Academy in his hometown of Delano, California. Most recently, Ricardo served the community of northeast Los Angeles as principal of Early College Academy for Leaders and Scholars High School.

Ricardo was the founding principal for Larchmont Charter Middle and High School, an academically high-performing K-12 charter school whose mission is to serve a racially, ethnically, and socio-economically diverse group of students. Prior to serving as the founding principal, Ricardo realized a strong need for passionate and empathetic educators while he was a middle school science teacher, instructional coach, and assistant principal in the Los Angeles Unified School District. Upon graduating from University of California, Santa Barbara (UCSB), Ricardo joined Teach For America.

Ricardo attended UCSB where he earned a bachelor's degree in biology. Ricardo holds a master's degree in education from Loyola Marymount University and a master's degree in educational leadership from California State University, Northridge. Ricardo also holds a doctorate degree from the University of Southern California.