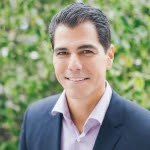 Rick Cruz has served in leadership roles in companies, nonprofits, and government agencies – and has extensive experience in organizational management, partnerships, business development, strategic planning, and external relations.
Rick is currently the chief revenue officer of Arabella Advisors – a mission-driven Certified B Corporation dedicated to helping changemakers and philanthropists create a better world. In his role at Arabella, Rick oversees communications, marketing, and client development efforts, all of which help to grow the organization's reach and impact.
Over the last decade, Rick has served in senior roles at leading social sector education and youth development enterprises, including College Board, America's Promise Alliance, FSG, Teach for America, DC Prep Public Charter School, and the DC Public Charter School Board.
Rick began his career in the professional services sector, working at the Corporate Executive Board (CEB) in Washington, DC, and London for more than a decade. There he assumed successive leadership roles and built teams that helped global corporations develop their strategic planning, finance, risk management and governance capabilities.
Rick is deeply committed to advancing access to quality education and currently serves as chair of the DC Public Charter School Board. That independent board oversees the 66 nonprofit organizations and their 126 schools – which educate nearly half the public school students in the District of Columbia. Rick is a frequent panelist and speaker about public education and reform efforts.
Rick also holds board positions at several local and national nonprofits, including Washington International School, the National Alliance for Public Charter Schools, and Instruction Partners.
Rick earned a BA in philosophy from Yale University. He resides in Washington, DC with his wife and two children, Luca and Belén.