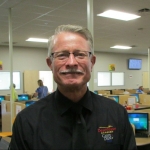 Rick is the founder and designer of Arizona's Carpe Diem Schools and its nationally recognized educational model. He currently serves as superintendent of Carpe Diem's schools in Indiana and in Texas. He has innovated with the model for over a decade, refining the processes, technology, curriculum, assessments and staff development necessary to ensure high-quality, consistent student results.

Rick is the current board chair at Desert View Academy, a system of elementary, middle-high, and online schools in Yuma, Arizona. He has served as president of the Arizona Charter School Association, adjunct professor of Philosophy at Arizona Western College, and school improvement coach for the Arizona Department of Education. Prior to his work in education, Rick was director and therapist of a marriage and family counseling center, served on the board of directors and worked in the finance department of Anitox Corporation, in the United States Marine Corps as an infantry communications officer, and in the United States Navy as a marine chaplain.

Nominated for Entrepreneur of the Year and The Heart of Yuma Community Service Award, Rick has been called upon to represent the transformative impact of blended and personalized learning on major education reform shows like NBC's Education Nation and in specials on education like Fox News Reporting: Fixing Our Schools. Rick has been intensely involved in building relationships, understanding the challenges, and building schools and partnerships for better education in Arizona, Indiana, Ohio and Texas.

Rick received a BA in political science and public administration from California Baptist College, a MDiv in theology from Southwestern Seminary, and a MA in education from the University of Phoenix.