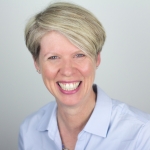 Missouri Charter Public School Commission
Robbyn Wahby is the founding executive director of the Missouri Charter Public School Commission, a state-wide sponsor of charter public schools. Prior to her appointment to the Commission in 2015, Robbyn served as deputy chief of staff to St. Louis Mayor Francis G. Slay, where she provided direction and advice on education and children's policy. She joined the Mayor in 2001 and was responsible for the city's K-12 school reform effort, first focusing on district transformation and then quality charter public school expansion. She created the Mayor's Commission on Children, Youth & Families, a community-wide early collective impact strategy to improve childhood well-being in St. Louis.

Prior to joining the Mayor, Robbyn was the director of alumni and constituent relations for the University of Missouri – St. Louis, a community development specialist with the Family Investment Trust, and served as director of neighborhood leaders and Women in Leadership for the Coro – Midwestern Center. For nearly a decade, Robbyn worked for the Community Schools in St. Louis Public Schools. Robbyn was elected to the St. Louis Board of Education and served six years. Robbyn currently serves on the board of National Association of Charter School Authorizers and IFF. She earned her master's in public policy administration and her bachelor's in business administration, both from the University of Missouri, St. Louis. She and her husband have two adult children and live in St. Louis.