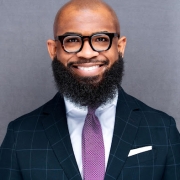 Dr. Robert S. Harvey is an educator and writer, public scholar and arts enthusiast, community leader, and child advocate. Drawing upon lived experiences, ethical thought, and a bold vision for the future of human wellbeing, his leadership, writing, and being has a threefold focus—love, justice, and hope. He is the President of FoodCorps, a national organization committed to food justice in schools and communities for health, education, and a sense of belonging. He is also a Visiting Professor in the Practice of Public Leadership at Memphis Theological Seminary.

Prior to FoodCorps, he was most recently Superintendent of East Harlem Scholars Academies; and has also been Head of School at Star Academy College Preparatory in Memphis, Tennessee and Chief Operating Officer and Senior Lecturer in Religion and the Social Sciences at Simmons College of Kentucky, an historically Black college in Louisville, Kentucky.

Throughout his work, he has led with and embodied a deep commitment to antiracism, radical humanity, and faith-informed justice. Dr. Harvey has a doctorate in leadership and society from Memphis Theological Seminary, master of theological studies from Harvard University, and bachelor of arts from Bryant University. He has also completed a certificate of school management and leadership (CSML) and the Institute for Superintendents and District Leaders at Harvard.

He is author of Abolitionist Leadership in Schools: Undoing Systemic Injustice through Communally Conscious Education; as well as Teaching as Protest: Emancipating Classrooms through Racial Consciousness. He serves on a variety of nonprofit boards impacting education, the arts, and economic investment.