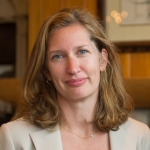 Center on Reinventing Public Education, University of Washington
Robin Lake is director of the Center on Reinventing Public Education (CRPE) and affiliate faculty, School of Interdisciplinary Arts and Sciences, at the University of Washington Bothell. She is internationally recognized for her research and analysis of U.S. public school system reforms, including charter schools and charter management organizations; innovation and scale; portfolio school districts; school turnaround efforts; and performance-based accountability systems.

Robin has authored numerous studies and provided expert testimony and technical assistance on charter schools and urban reform. She is the editor of Unique Schools Serving Unique Students: Charter Schools and Children with Special Needs (CRPE, 2010) and editor of the annual report, Hopes, Fears, & Reality: A Balanced Look at American Charter Schools. She co-authored, with Paul Hill, Charter Schools and Accountability in Public Education (Brookings, 2002). She has provided invited testimonies to the U.S. House of Representatives Education and Labor Committee as well as various state legislatures. She presents regularly at conferences and summits around the United States, and has advised on charter school implementation in South Africa and the United Kingdom. Robin serves as a board member or advisor to various organizations, including the Journal of School Choice, the National Center on Special Education in Charter Schools, the National Association of Charter School Authorizers, and the National Charter School Resource Center.

Robin holds a BA in international studies and an MPA in education and urban policy from the University of Washington.