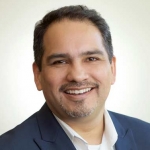 Rolando Posada was recently promoted to Area Superintendent of IDEA Public Schools, managing all Executive Directors outside of Texas and the ED from San Antonio. IDEA is an open-enrollment, tuition-free, public charter school system with the mission of College for All Children.

Rolando started at IDEA in 2006 as a teacher after having taught in other districts in Texas and after having worked for a college in Minnesota. He was promoted to principal in 2007 and led an IDEA school, Frontier College Preparatory, to many accolades before being promoted to VP of Schools. As a Vice President of Schools for IDEA in the Rio Grande Valley of Texas, he led his high schools to national recognition and 100% college acceptance for several years, while serving a predominantly Latino population in which more than 85% of students qualified for free or reduced lunch.

He then moved his family to San Antonio in 2012, serving a more diverse student body as he took on the role of Executive Director; he and his team have grown the region from one to 30 schools in nine years. As of summer of 2021, IDEA SA is projected to send 260 of 260 seniors from 4 IDEA schools to College. 100% are accepted, and 50% have been accepted to Tier 1 or Tier 2 schools.

A few years ago, IDEA was named America's Best Charter School Network, winning the coveted Broad Prize for Charter Schools award, and boasts national rankings on The Washington Post and U.S. News & World Report's top high schools lists. He earned his bachelor's degree from the University of Houston and his MBA from the University of Sioux Falls. He holds teacher, principal, and superintendent certificates. He is committed to IDEA's mission of College for ALL Children.