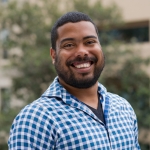 Romel Antoine is the California launch fellow at Empower Schools. Previously, he was the director of regulatory affairs for the California Charter Schools Association (CCSA), a membership and professional organization that advances the public charter school movement through state and local advocacy and leadership on school accountability.

Prior to CCSA, Romel served as an education partnerships strategist of Roadtrip Nation Education (RTNE), an organization focused on empowering individuals to explore who they are and what they want to do with their lives through a public television series, online resources, and an innovative educational curriculum.

Before his time at RTNE, Romel held various leadership positions at City Year, Inc., a civic service organization that partners with public schools in communities disproportionately affected by the high school dropout crisis. Romel worked to support young people committed to a year of service in schools to provide student, classroom, and whole school support, intended to help students stay in school and on track to graduate high school.

As a first-generation immigrant from Trinidad and Tobago who immigrated during his teen years, Romel understands the unique circumstances families are forced to navigate related to the United States education system. "Raised" in Boston, Massachusetts, Romel spent much of his time working to organize LGBTQIA+ communities to secure marriage equality, an experience that continues to shape his dedication to equity. He is a graduate of Wheaton College (Massachusetts) where he graduated with a bachelor's degree in women and gender studies. He currently resides in Sacramento, California with his wife and their three children. Together, they've founded a yoga studio dedicated to creating transformative healing opportunities for communities of color.