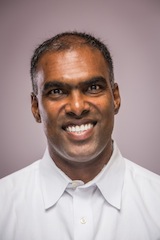 Founder & Chief Executive Officer
Sajan George leads Matchbook Learning, a national nonprofit school management organization launched in 2011 to turnaround our nation's bottom 5% of underperforming public schools with a unique blended model of school that leverages both online technology and turnaround management skills. Matchbook Learning has launched successful school turnarounds in Detroit, MI and Newark, NJ, an Accelerator for its personalized methodology in Washington, DC and a personalized, competency-based learning platform called Spark.

Prior to founding Matchbook Learning, Sajan was a managing director with Alvarez & Marsal (A&M) where he led the firm's Education Practice. In that role, he led a diverse group of talented turnaround professionals across the U.S. in running entire K-12 public school districts.

Sajan and his team at A&M employed turnaround strategies across major urban cities with precedent setting reform efforts in St. Louis (2004 - first ever district to contract out its entire management to a private management firm), to New Orleans (Post-Katrina success in designing the reopening of several schools within days after the levees historically broke to the implementation of new charter and non-charter public schools - 2005 & 2006) to New York City (well chronicled turnaround and Broad Prize winner in 2007) to Detroit (2009 & 2010 - historic State takeover and appointment of Emergency Fiscal Manager) with numerous mid-tier cities in between.

Prior to A&M, he was a senior director in Arthur Andersen's Corporate Restructuring Group wherein he led turnarounds of companies in crisis across a range of industries in Canada, Australia and the United States.