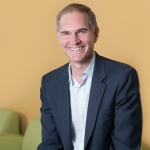 Scott Moore is Chief Executive Officer of Kidango, a leading early learning organization, serving thousands of low-income children and families. Kidango empowers human potential to help create a loving, compassionate and equitable world. We do this by preparing the youngest, most vulnerable children for success in school and life. Our work is at the nexus of practice, policy and research, which allows us to bring innovation to scale, so that what we learn from transforming one child's life can be offered to countless more. Through partnerships with leading research institutions and a data-driven approach to continuous quality improvement, we measure outcomes as part of perfecting our practice. Yet the heart of our work is building meaningful relationships that transform trauma to triumph, oppression to opportunity, and poverty to power. A rigorous University of Chicago study shows that Kidango's preschool education dramatically improves low income children's language and literacy skills, results that are comparable to the most recognized preschool programs in the U.S.

Prior to Kidango, Scott was Chief Policy Advisor for Early Edge California, where he designed the policy that established the new Transitional Kindergarten grade and the consolidated California State Preschool Program. These policy victories increased pre-k access to over 170,000 children a year. In 2014, Scott served as a Senior Fellow at the Goldman School of Public Policy at UC Berkeley. In 2011, he was appointed by Governor Arnold Schwarzenegger to be Executive Director of the California Early Learning Advisory Council.

Scott serves on the board of Educare of California at Silicon Valley, and was appointed by Governor Gavin Newsom to serve on the California Early Childhood Policy Council. Kidango's work has been featured in the New York Times, PBS Newshour, NBC News, the Los Angeles Times, Ed Source, the Hechinger Report, and New America, among others.