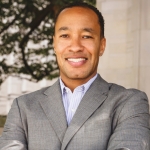 Founder & Managing Partner
Shayne Evans is a founder and managing partner of The Academy Group. Previously Evans served as the chief executive officer of the University of Chicago Charter School and managing director of the University of Chicago Urban Education Institute (UEI). At UEI, Evans also co-founded The Success Project, a curriculum focused on preparing students for college access and graduation beginning in 6th grade, a program included in President Obama's College Opportunity Day of Action.

Previously, Shayne served as the director of the University of Chicago Charter Woodlawn campus and co-founded the UChicago Charter Carter G. Woodson campus. Before joining the UChicago Charter School, Shayne worked as an 8th grade mathematics teacher at the Chicago International Charter School, an AP US History teacher at Ida Crown Jewish Academy and an 8th grade teacher at Chicago Public School's Julia Lathrop Elementary.

Shayne earned a BA in political science and African American History from the University of Illinois at Urbana-Champaign and a masters from Concordia University. First in his family to graduate from college, Shayne has spoken across the nation about what is possible for young people from underserved communities and the importance of student agency as a guide for success. Shayne has been the recipient of many honors and awards, including the 2017 NAACP Educator of the Year Award. He is a native of Chicago's South Side and resides in Bronzeville with his wife and daughter.