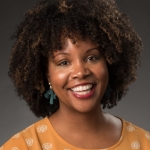 Sherri Chisholm (formerly Sherri Davis) spent the last twelve years driving district and nonprofit transformation through strategic planning, organizational effectiveness, and leadership development. Sherri currently serves as the executive director of Leading on Opportunity, a non-profit focused on improving economic mobility and racial equity in Charlotte and its surrounding areas.

Before joining Leading on Opportunity, Sherri was the founding executive director of Urban Alliance - Detroit, a youth workforce development organization.

In the past, Sherri oversaw strategy, talent, and operations for the Teach for America Metro Atlanta Region (TFA). Before TFA, she served as chief of staff for The School District of Palm Beach County, Florida. There, Sherri worked directly with the Superintendent to coordinate District-wide endeavors, led the District's strategic plan implementation, and acted as a liaison between the Superintendent, District leadership, and the community. Sherri started her work in education reform as the director of strategic planning and project management in the Fulton County School System. In this role, Sherri led the District's five-year strategic plan completion through project management, data dashboards, leadership engagement, and ongoing and transparent communication with the school board and community. Before transitioning to K-12 education, Sherri worked as an organization and change management consultant with Deloitte Consulting LLP. Her client portfolio included the Departments of Public Welfare and Education in the Commonwealth of Pennsylvania, Los Angeles Unified School District Charter Schools, The Coca-Cola Company, and AT&T.

Hailing from Detroit, Sherri holds a bachelor's degree in organizational studies from the University of Michigan. She went on to earn a master's degree in corporate and community partnerships from the Harvard School of Education, and a master's degree in educational leadership from the Broad Center for the Management of School Systems.