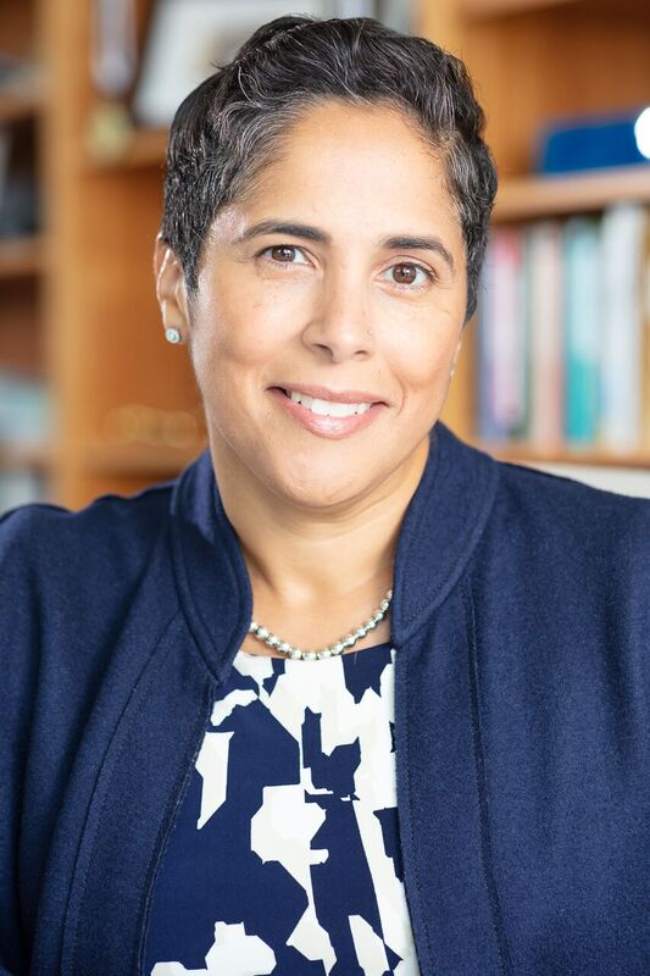 Shirley M. Collado is the ninth president of Ithaca College, and also serves as a professor in Ithaca College's Department of Psychology. She is known nationally for designing and implementing innovative approaches to higher education that expand student access and success, and has extensive experience overseeing complex not-for-profit organizations in both the private and public sectors of higher education. She is a national thought leader on developing successful cross-sector collaborations, building the capacity of diversity and inclusion in organizations, and strengthening the pathway to the professoriate and leadership roles in higher education.

President Collado brings this inclusive, visionary approach to her leadership at Ithaca College. In her first year at IC, she launched two inventive efforts to facilitate cross-disciplinary collaboration and develop the talent of faculty, staff, and students: the President's Seed Grant Initiative, which awarded more than $100,000 to interdisciplinary teams for projects that enriched the campus community, and the President's Fellows Program, which saw six faculty, staff members, and students move into positions outside of their typical professional or academic environment for one academic year.

Additionally, under President Collado's direction, the Ithaca College community launched a strategic planning process in the 2018-19 academic year, focused on creating a foundational blueprint for the future of the college that ensures the excellence of the student experience within a diverse, inclusive, and equitable learning community.

In partnership with a dynamic and bold senior leadership team, President Collado is dedicated to igniting creativity and full participation within the campus community, a continuation of her professional journey in higher education and the non-profit sector.

Prior to joining the Ithaca College community, President Collado served as executive vice chancellor and chief operating officer at Rutgers University–Newark. In this critical role, she led the implementation of key elements of the university's strategic plan and oversaw academic affairs, student affairs, and core institutional operations including academic services, enrollment services, student life, human resources, facilities, information technology, and budget and finance. She worked to align many of the functions of those offices to increase inclusiveness and student success. She also continued her research and teaching pursuits at Rutgers-Newark as a faculty member of the Department of Sociology and Anthropology with an affiliation in the Department of Psychology.

Prior to her appointment at Rutgers-Newark, President Collado served at Middlebury College as vice president for student affairs and dean of the college, and associate professor of psychology. She oversaw and supported a dynamic student body and academic community while managing numerous departments and offices. She successfully led transformative initiatives that strengthened the residential life experience for students; earned national recognition for an overhaul to the new-student orientation program; and developed forward-looking sexual misconduct and judicial policies.

Before joining Middlebury College, President Collado served as the executive vice president of The Posse Foundation, where she significantly grew the organization and managed operations on a national level. A not-for-profit organization and one of the most comprehensive college-access programs in the country, The Posse Foundation identifies, recruits, and trains outstanding youth leaders from urban public schools and sends them in diverse teams, called "posses," to top colleges and universities around the country.

President Collado received her undergraduate degree in human and organizational development and psychology from Vanderbilt University in 1994, and earned MA and PhD degrees in clinical psychology from Duke University. She is a clinical psychologist with a specialty in trauma among multicultural populations at the intersection of race, ethnicity, and gender.

She has taught at a number of colleges and universities including New York University, Georgetown University, George Mason University, the New School, Middlebury College, and Lafayette College. A national thought leader on diversity, collaboration, and innovation, she has delivered numerous keynote addresses and presentations, facilitated workshops and trainings, consulted on initiatives with many organizations, and received several awards.

Along with Angela Batista, Champlain College's vice president of student life, and David Perez II, associate professor of student affairs in higher education at Miami University of Ohio, President Collado co-edited a book, Latinx/a/os in Higher Education: Exploring Identity, Pathways, and Success, released in early 2018. The collection of essays open a critical dialogue around the ways in which higher education can cultivate the right set of conditions to diversify pathways to success in anticipation of the shifting demographics of the United States.