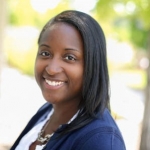 Charter School Growth Fund
Soenda Howell is an investment principal at Charter School Growth Fund (CSGF), a nonprofit that identifies the country's best charter schools, funds their expansion, and helps to increase their impact. In her role, Soenda leads the Emerging CMO Fund which supports the growth of high-quality charter school networks led by entrepreneurs of color across the country.

Prior to joining CSGF, Soenda provided direct support focused on instruction, leadership, and strategy for schools in emerging regions at the KIPP Foundation. In addition, she led and expanded three of KIPP's national leadership development programs for school founders – the Miles Family, Global, and Fisher Fellowships. Soenda began her career in education as a Teach for America corps member and later transitioned to be a teacher and a principal in the KIPP network.

She has a bachelor's degree in economics from Swarthmore College, and a master's degree from Teachers College, Columbia University.